There's Never Been a Better Time to Buy
The opportunity to acquire prime property at auction, with attractive financing available, means your dream of owning a cabin or building lot in the Smokies has never been more attainable . . . and it's a great investment! Just minutes from the new Sevierville Convention Center, Pigeon Forge and Gatlinburg shows and attractions, convenient yet away from the crowds, Eagle Springs Resort is an attractive rental property or great family getaway spot!
Paradise Found
Eagle Springs Resort presents a great opportunity to acquire your own little piece of heavenly mountain property at auction prices.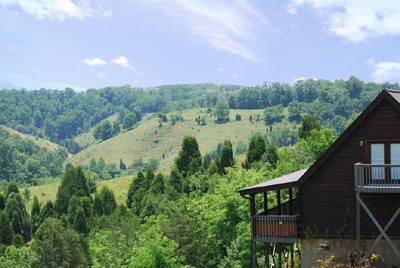 Eagle Springs has a beautiful community swimming pool and an active homeowners association. All the cabins are fully furnished with premium furnishings and have hot tubs. The loft cabins have a foosball, air hockey or pool table.

The building lots feature all utilities in place, and the ridgeline sites feature views of the Smokies. The 32.51 acre building tract offers privacy and is conveniently located. There's a 19,000 sq. ft. multipurpose metal building and 3 storage buildings totaling 9,000 sq. ft. available as part of the support complex.

Speaking of location, Eagle Springs is located in the foothills of the Great Smoky Mountains National Park, the largest, and arguably, the most beautiful . . . certainly the most diverse . . . of the parks in the national park system. The natural beauty of this

unspoiled wonderland delights and amazes, as the 13+ million visitors to the park each year discover. It is the number one destination for families wanting to spend a fun filled, inexpensive vacation in one of America's premier locations.

Just outside the Smokies the towns of Gatlinburg, Pigeon Forge and Sevierville play host to the visitors that come to enjoy shopping, golf, white water rafting, hiking, fishing, snow skiing, bear watching or just plain relaxing!